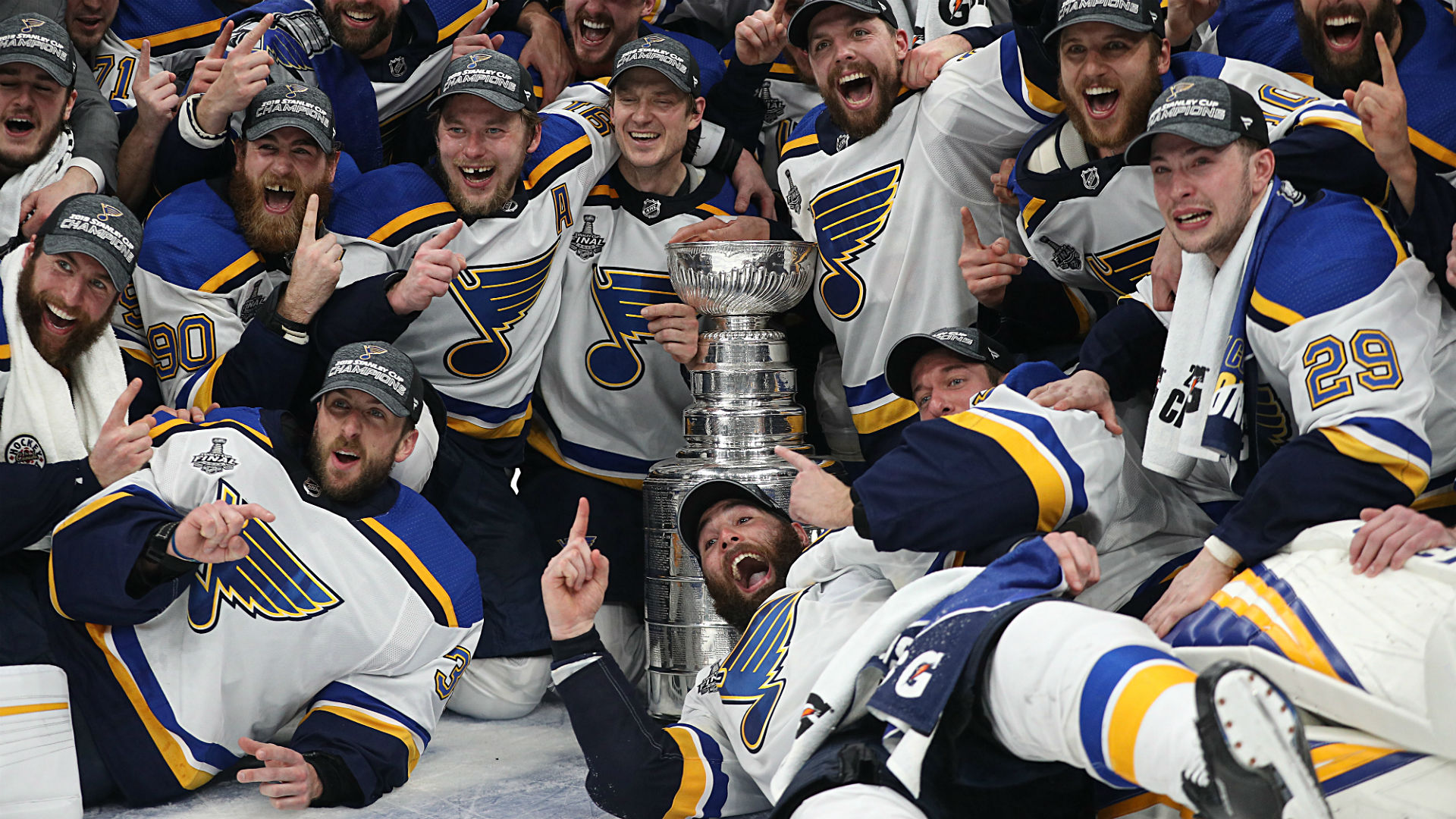 NHL = The National Hockey League is currently at 31 teams. In 2020-21, the league will expand again with a new team – the 32nd – located in Seattle.
Congratulations to the Stanley Cup Champions, the Saint Louis Blues, for their first Stanley Cup Championship! What a great Final series and opponent. — Website.
AHL = The American Hockey League is currently at 31 teams as of last season, with the 2018-19 addition of the former ECHL's Colorado Eagles who are affiliated with the Colorado Avalanche. In 2021, the 32nd AHL club, affiliated with the new NHL Seattle team, will be added to the league and located in Palm Springs, California.
Congratulations to the Charlotte Checkers for winning the Calder Cup in 2019! They defeated the Chicago Wolves in five games to win their first AHL Calder Cup Championship. — Website. Team Map & Directory.
ECHL = (formerly the East Coast Hockey League) — The ECHL will have 26 teams for 2019-20, down from 27 teams last season, after the Manchester Monarchs failed to find new ownership for this season.
Twenty-five ECHL teams currently have affiliations —  the Norfolk Admirals are the only team currently without an NHL affiliation. The following NHL teams have no ECHL affiliations this season: Anaheim, Columbus, Florida, Los Angeles, Montréal and San Jose.
Congratulations to the new Kelly Cup Champions Newfoundland Growlers, who defeated Toledo, 4 games to 2. The Growlers received a brand new Kelly Cup this season, due to a ridiculous dispute between the former ECHL team Colorado Eagles's owner and the ECHL. The Eagles, now an AHL club, have retained possession of their ECHL cup from 2018.  — Website. Team Directory.
For last season's affiliations see 2018-19 NHL team affiliations with AHL and ECHL teams.
Updated September 28, 2019. 
NHL TEAMS
NHL affiliations with Minor Leagues (ownership indicated if NHL team owned)
Anaheim Ducks
 
AHL: San Diego Gulls (NHL owned)
 
ECHL:
 
Arizona Coyotes
 
AHL: Tucson Roadrunners (NHL owned)
 
ECHL: Rapid City Rush (Affiliate through 2020-21) Announce affiliation for two seasons, for 2019-20 and 2020-21.
 
Boston Bruins
 
AHL: Providence Bruins (Affiliation)
 
ECHL: Atlanta Gladiators (Affiliation 2019-20) – Bruins renew their affiliation for for 2019-20)
 
Buffalo Sabres
 
AHL: Rochester Americans (NHL owned)
 
ECHL: Cincinnati Cyclones (Affiliation)
 
Calgary Flames
 
AHL: Stockton Heat (NHL owned)
 
ECHL: Kansas City Mavericks (Affiliation 2019-20) – Announce their continued affiliation for 2019-20.
 
Carolina Hurricanes
 
AHL: Charlotte Checkers (NHL owned – Michael Kahn)
 
ECHL: Greenville Swamp Rabbits (Affiliation 2019-20) – Announce affiliation for 2019-20 'and beyond'.
 
Chicago Blackhawks
 
AHL: Rockford IceHogs (Affiliation) – Chicago and Rockford renew their affiliation through 2021-22.
 
ECHL: Indy Fuel (Affiliation through 2021-22) – Renew affiliation through 2021-22.
 
Colorado Avalanche
 
AHL: Colorado Eagles (Affiliation through 2027-28) – Avalanche announce a 10-year affiliation with the Eagles.
 
ECHL: Utah Grizzlies (Affiliation) – Utah announced affiliation, Jun. 25, 2018.
 
Columbus Blue Jackets
 
AHL: Cleveland Monsters (Affiliation)
 
ECHL:
 
Dallas Stars
 
AHL: Texas Stars (NHL owned)
 
ECHL: Idaho Steelheads (Affiliation through 2019-20; Steelheads announce 2-year affiliation extension July 16, 2018)
 
Detroit Red Wings
 
AHL: Grand Rapids Griffins (Affiliation through 2021-22) – Griffins and Red Wings renew their affiliation for another 5 years through 2021-22, July 6, 2017.
 
ECHL: Toledo Walleye (Affiliation through 2020-21)
 
Edmonton Oilers
 
AHL: Bakersfield Condors (NHL owned)
 
ECHL: Wichita Thunder (Affiliation for 2019-20) – Edmonton renews their affiliation for 2019-20.
 
Florida Panthers
 
AHL: Springfield Thunderbirds (Affiliation) –  Florida announced multi-year affiliation with the team beginning in 2016-17]
 
ECHL:
 
Los Angeles Kings
 
AHL: Ontario Reign (NHL owned – AEG)
 
ECHL:
 
Minnesota Wild
 
AHL: Iowa Wild (NHL owned)
 
ECHL: Allen Americans (Affiliation)
Montréal Canadiens
 
AHL: Rocket de Laval (NHL owned)
 
ECHL: 
 
Nashville Predators
 
AHL: Milwaukee Admirals (Affiliation)
 
ECHL: Florida Everblades (Affiliation, 2019-20) – Announce affiliation with Nashville for 2019-20.
 
New Jersey Devils
 
AHL: Binghamton Devils (NHL owned)
 
ECHL: Adirondack Thunder (Affiliation 2019-20) – Adirondack and Devils extend affiliation for 2019-20.
 
New York Islanders
 
AHL: Bridgeport Sound Tigers (NHL owned)
 
ECHL: Worcester Railers (Affiliation through 2019-20) – Worcester and Islanders renew affiliation through 2019-20, Jun. 1, 2018.
 
New York Rangers
 
AHL: Hartford Wolf Pack (NHL owned)
 
ECHL: Maine Mariners (Affiliation) – Mariners announce affiliation with Rangers for 2018-19, Apr. 9, 2018.
 
Ottawa Senators
 
AHL: Belleville Senators (NHL owned)
 
ECHL: Brampton Beast (affiliate 2019-20)
 
Philadelphia Flyers
 
AHL: Lehigh Valley Phantoms (Affiliation)
 
ECHL: Reading Royals (Affiliation 2019-20)
 
Pittsburgh Penguins
 
AHL: Wilkes-Barre Scranton Penguins (NHL owned)
 
ECHL: Wheeling Nailers (Affiliation 2019-20)
 
San Jose Sharks
 
AHL: San Jose Barracuda (NHL owned)
 
ECHL:
 
St. Louis Blues
 
AHL: San Antonio Rampage (Affiliation through 2022-23) – Rampage announce 5-year affiliation with the Blues, Oct. 10, 2017.
 
ECHL: Tulsa Oilers (Affiliation, 2019-20)
Tampa Bay Lightning
 
AHL: Syracuse Crunch (Affiliation through 2022-23) – Extends affiliation through 2022-23, with mutual options for 2023-24 and 2024-25, 9/12/18)
 
ECHL: Orlando Solar Bears (Affiliation through 2020-21) – Orlando and Tampa announceannounce a 3-year affiliation through 2020-21, Aug. 13, 2018)
 
Toronto Maple Leafs
 
AHL: Toronto Marlies (NHL owned)
 
ECHL: Newfoundland Growlers (Affiliation through 2020-21) – Growlers & Maple Leafs announce a 3-year affiliation through 2020-21, Jun. 14, 2018.
 
Vancouver Canucks
 
AHL: Utica Comets (NHL owned)
 
ECHL: Kalamazoo Wings (Affiliation through 2020-21)
 
Vegas Golden Knights
 
AHL: Chicago Wolves (Affiliation through 2021-22) – Vegas announce a multiple season affiliation with the Wolves, May 16, 2017. Crain's Chicago Business news reports the Vegas affiliation is for 5-years through 2021-22, May 16, 2017.
 
ECHL: Fort Wayne Komets (Affiliation 2019-20)
 
Washington Capitals
 
AHL: Hershey Bears (Affiliation through 2019-20) – Washington renews their affiliation with Hershey for 4 more years, through 2019-20.)
 
ECHL: South Carolina Stingrays (Affiliation 2019-20)
 
Winnipeg Jets
 
AHL: Manitoba Moose (NHL owned)
 
ECHL: Jacksonville IceMen (Affiliation 2019-20)